Mindful eating – take time for what matters.
For mig er mad en kæmpe del af, hvad der gør mig glad i min hverdag. Det har taget mig nogen tid at indse, at jeg ikke er en person der kan leve med det mindset, at mad blot er fuel til at holde kroppen i gang. Gennem de forskellige faser i mit liv har jeg da også afprøvet diverse forskellige mad-diæter for at være så "sund" som mulig. Og ligeså meget som mad gør mig glad, har jeg også knoklet med, at mad har gjort mig ked af det og givet mig utrolig dårlig samvittighed.
Jeg har derfor fokuseret på at få et bedre syn på og en sundere tilgang til mad. En tilgang, hvor jeg ikke skal være på en evig "kur", eller optjene point for at kunne spise mit fredagsslik 😀 Ligeledes har det været vigtigt for mig, at jeg har været i stand til at finde min egen stopknap, og blive i stand til at skelne mellem at være sulten og være ked af det eller bare kede mig. Efter min mor oplevede, at jeg kunne spise en hel broccoli tærte (min livret) for mig selv, introducerede hun mig for mindful eating.
Mindful eating handler ikke om hvad du spiser, men om hvordan du spiser. Mange af os har gennem tiden påtaget os diverse bevidste og ubevidste spiservaner. Dette gælder fx. at spise foran tv'et, at "kværne" en pose chips uden egentlig at tænke over det, eller at vandre frem og tilbage mellem køkkenet og stuen for at "snacke" mad grundet ren kedsomhed.
Gennem mindful eating har jeg lært at tolke signalerne for, hvornår, hvor meget og hvad min krop gerne vil spise. Man kan læse en masse studier om mindful eating, og hvilken effekt dette har på din krop og på dit sind. Jeg tænkte alligevel, at jeg ville dele et billede af nogle tips som kan benyttes i hverdagen. Du kan også læse hele artiklen her.
Her er ligeledes 5 fordele ved at spise mindfuldt:
Bedre fordøjelse og absorbering af næringsstoffer.
Oplevelse af, at maden smager bedre.
Forebyggelse mod overspisning og efterfølgende ekstrem træthed.
Reducering af hungren efter noget bestemt mad.
Hjælpeværktøj til vægttab.
//For me, food has always been a huge part of what made me happy during the day. It has taken me some time to realize that I am not a person who can live with a mindset, that food is just fuel to get the body going. Through different stages of my life, I have tried out a lot of different diets to be as healthy as possible. And as much as food makes me happy, food also have the ability to make me sad and give me a bad conscience.
Because of that, I have focused on getting a better and more happy approach towards food. An approach that does not include me being on a "diet" for the rest of my life, nor earn points so that I am able to get my candy on Friday evening 😀  It has also been equally important for me to be able to find my own stop button and be able to distinguish between being hungry, sad or just plain out bored. After my mom experienced me eating a whole broccoli pie (my favorite dish), she introduced me to mindful eating.
Mindfull eating is not about what you eat, but how you eat. Many of us have throughout time obtained various conscious as well as unconscious eating habits. This applies to, for example, eating in front of the TV, binge eating a bag of chips without giving it a second thought, or to wander back and fourth between your kitchen and living room to snack, purely out of boredom.
Through mindfull eating I have learned to read the signals in regards to when, how much and what my body would like to eat. There are lots of studies on mindful eating, and what effect this has on your body and mind. Still, I figured I'd share share a picture with some useful tips you can use in your everyday. If you want, you can read further about mindful eating here.
Also here you have 5 benefits of Mindful eating:
Better digestion and absorption of nutrients.
Food tastes better.
Prevents Overeating and "Food Hangovers".
Reduces Food Cravings.
Helps us Lose Weight.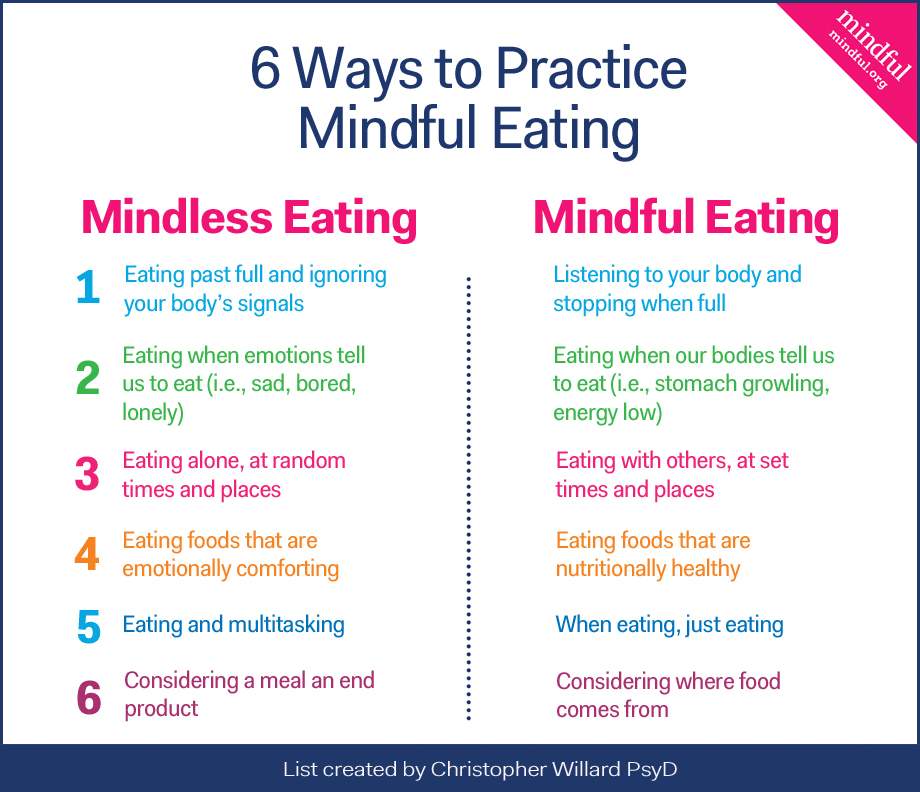 http://www.sofiefris.dk/wp-content/uploads/2018/01/IMG_1021.jpg
1150
2048
Sofie Fris
http://www.sofiefris.dk/wp-content/uploads/2018/07/SofieFris_Logo.png
Sofie Fris
2018-01-23 11:59:58
2018-01-23 11:59:58
MINDFUL EATING